Construction Notice – Noise Variance Permit (Feb 16, 2022)
Posted On: Wednesday February 16, 2022
February 16, 2022
Dear Neighbours,
This letter is to notify residents that the City of Vancouver has granted a Variance of Construction Hours for the New St Paul's project located at 1002 Station Street. PCL Construction as the General Contractor will be managing and overseeing this project, with Darrin Joss (PCL) as the Site General Superintendent.
This noise variance notification is for:
Feb 22 – Mar 26, 2022 (Mondays – Fridays): 7:00AM to 7:30AM
Feb 26, Mar 12 & 26, 2022 (Saturdays): 8:00AM to 10:00AM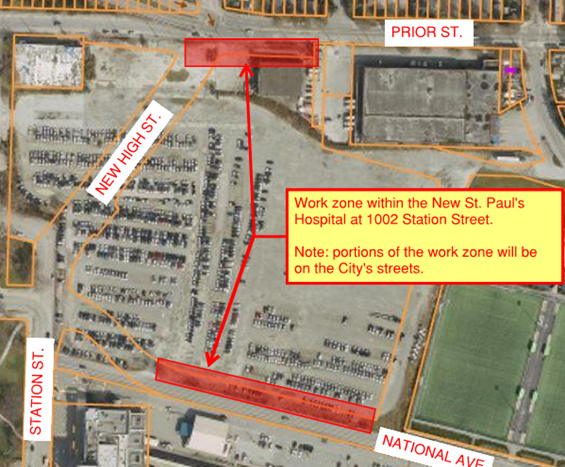 How are we reducing the impact to neighbours?
PCL takes considerable effort while organizing construction activities to ensure the neighbourhood endures the least amount of impact. During the hours stated above, new storm & sanitary sewers will be installed within the New St. Paul's Hospital site at 1002 Station Street.
During these hours, crews will be digging trenches and installing sewer pipes. Trucks will be loaded with excavated materials within the New St Paul's Hospital site. Working during these allowed hours will benefit the public by reducing the overall duration of this work.
Should you have any questions or concerns, use the Project Hotline at (604)335-2669 to leave a message and PCL will return your message within 24 hours.
Yours Truly,
Melissa Sanderson, PCL Communications Lead