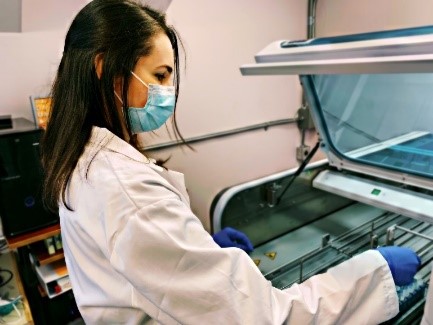 It's no "cookie-cutter" lab
Posted On: Friday September 2, 2022
More than 70 per cent of all critical clinical decisions are informed by lab results. Good laboratories are a critical part of the health care system, ensuring care providers have the important information needed for the proper prevention, diagnosis and treatment of disease. So when it comes to designing the main laboratory at the new St. Paul's Hospital, it's important we get it right.
"The level of engagement with the lab team has been massive," explains Janice Bittante, a senior project and change management lead for the New St. Paul's Hospital Project. "What's important about lab design is that every square inch is a custom build. Every space is unique – it's not cookie cutter."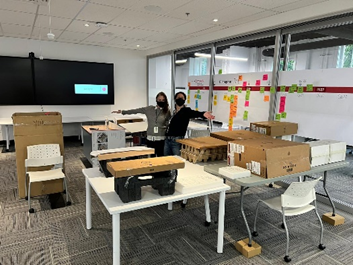 As the subject matter experts, the laboratory team has played a critical role in the design of the new lab. Providence's Pathology and Laboratory Medicine Department, based at St. Paul's Hospital and Mount Saint Joseph Hospital, provides routine and highly specialized diagnostic services and consultation to clinicians and patients across British Columbia and the Yukon.
"We're an accredited profession so we need equipment placed in certain locations for our lab to keep its accreditation," notes Mark ULarte, technical coordinator with Clinical Chemistry. "We can't have an analyzer beside a certain equipment and vice versa. We need to ensure patients get the best diagnostic care possible."
Mark is one of several members of the Laboratory Working Group for the new St. Paul's Hospital. This year, the group helped finalize each room's layout in the main lab as part of the formal 70% Detailed Design Stage and defined how they'll work in their new spaces, plus focus on technology and equipment procurement.
"Being involved in the working group means we can help think through all the fine details to make sure the space will be flexible and create good workflows for our teams," says Peter McLellan, Operations Manager for Pathology and Laboratory Medicine. "It's been both fun and challenging."
Designed to adapt to future technology
The new lab will have modular and mobile workstations compared to the existing lab where many stations are built-in and stationary.
"We've designed flexibility into the new lab so when new equipment or technology is added, we can move furniture and workstations around to accommodate it," says Janice. "We're planning years in advance so it's hard to anticipate what kind of technologies will be needed when the hospital opens in 2027."
What we do know is there will be a lot more automation incorporated, including specimen conveyance, robotic analyzers and an extensive pneumatic tube system. The new tube system will be computer-controlled and automated, making it quicker and more efficient to transport items like blood and urine specimens from surgical rooms to the lab.
"Right now, we have so many technicians traveling with tubes in their hands," explains Gurjit Bubra, a Team Lead in Pathology and Laboratory Medicine. "In the new lab, we'll have automation, which will make the transport process safer and faster. It will be incredible."
But it's not always easy to incorporate new technology when designing spaces. At the 30% design stage, lab and pharmacy were on the fifth floor but in different locations. Since pharmacy needed access to Automated Guided Vehicles (AGVs) for its day-to-day work, the two departments had to switch places during the 50% design stage.
"We had to go back to the drawing table and redesign our whole space, so that was a challenge," says Peter. "We didn't get to work directly with the architects so you'd work on a space and then they would go back and draw up the designs and then it's all said and done."
Despite the initial difficulties, Technical Coordinator Laura Burns says her team is now happy with the layout.
"We're looking forward to a new space. Our current lab at St. Paul's Hospital is great but we've outgrown it. It'll be good to work in a space where we can have real workflow."