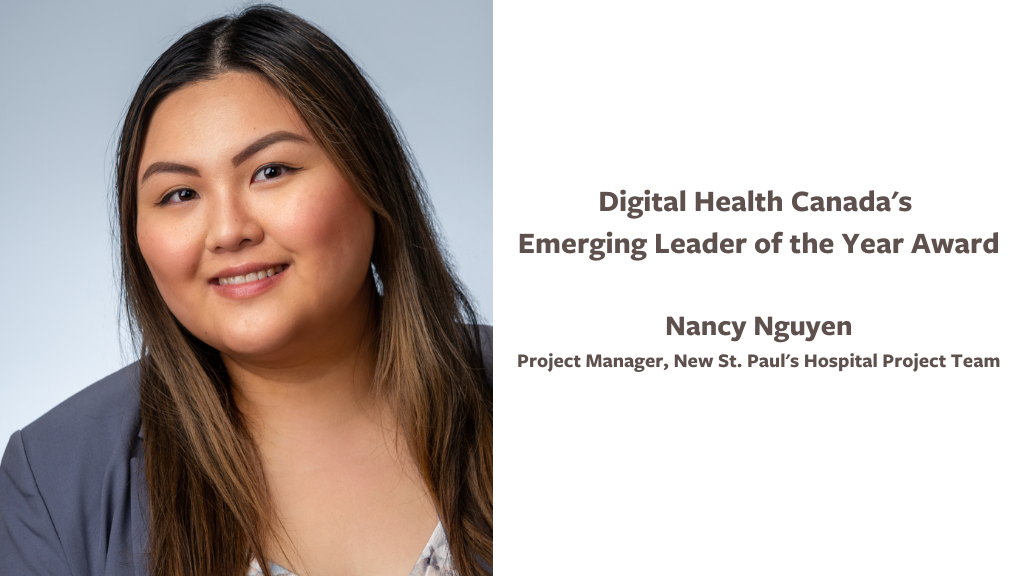 Nancy Nguyen wins Digital Health Canada's Emerging Leader of the Year award
Posted On: Tuesday June 6, 2023
Congratulations to Nancy Nguyen for winning the Digital Health Canada's Emerging Leader of the Year award! This annual award recognizes individual emerging leaders who are in the first seven years of their Digital Health or Virtual Health career who have clearly demonstrated leadership and achieved early success.
Nancy has worked as a project manager with the New St. Paul's Hospital Project Team for the past two years where she's currently leading the Outpatient Digital Experience. It's a transformational initiative that will replace traditional paper, telephone and fax processes with electronic referrals, patient self-scheduling, automated notifications and mobile check-in.
"Nancy is a passionate and trusted emerging leader, committed to the transformation of Canadian health care through empowering patients and improving the provider experience," said Jordan Pope, IT program director with the project team. "It has been inspiring to witness her continued growth in the field of digital health."
Outside of work, Nancy continues to be very active in developing and promoting her professional community. As an Executive Board Member of the Vancouver chapter of Emerging Health Leaders (EHL), Nancy has formed strategic alliances that have resulted in the creation and expansion of the sponsorship portfolio for EHL Vancouver and established partnerships with private and academic organizations.
Congratulations again to Nancy and all the award winners.