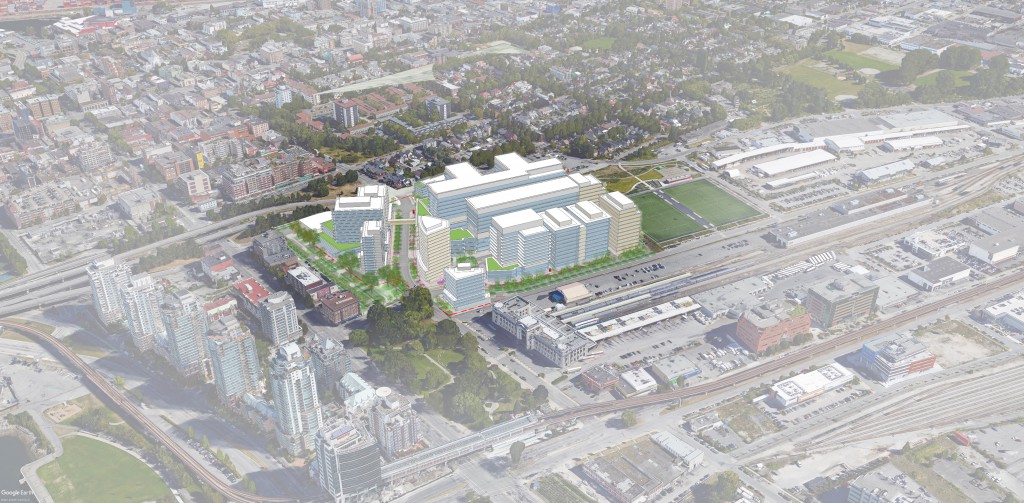 Rezoning Application Submitted for New St. Paul's Project
Posted On: Wednesday September 12, 2018
Providence Health Care has submitted an application to the City of Vancouver for the rezoning of land slated for the New St. Paul's Hospital and Health Campus.
"Rezoning the site is a key step for the project," says Fiona Dalton, President & CEO, Providence Health Care. "We're excited about the momentum this project is gathering. The New St. Paul's will be a catalyst of change for the health care transformation that is envisioned by the Ministry of Health and will create new models of health care delivery underpinned by Providence's unique, innovative and compassionate approach to caring for our most vulnerable patient populations."
The 18.4-acre site is located at 1002 Station Street in Vancouver's False Creek Flats.  The rezoning application asks the City to allow for development of the previous industrial site into a mixed-use development based on the Council-approved New St. Paul's Hospital and Health Campus Policy Statement.
The rezoning proposal includes:
A new hospital and integrated health care campus;
Commercial, office, hotel, institutional and limited residential uses that provide a variety of health-related support functions;
Retail and commercial space;
A range of building heights from approximately 20 m (66 ft.) to 60 m (197 ft.);
A new road network through the site that would connect to existing adjacent streets; and
Two child care facilities.
The application is being considered under the above-noted St. Paul's Hospital and Health Campus Policy Statement as well as the Rezoning Policy for Sustainable Large Developments.
The Station Street land is currently used as a parking lot and the use of the site needs to be changed to suit the envisioned new hospital and health campus.  The rezoning process will be led by the City of Vancouver, in partnership with Providence, much like the Policy Statement development process of 2016 and 2017.
"St. Paul's makes amazing contributions to improving the lives of British Columbians, and, indeed, through research,  innovation and knowledge translation  – in such areas as HIV/AIDS, cardio-pulmonary disease, renal care, mental health and addictions – to the lives of people around the world," says Dalton.
"The New St. Paul's will be full-service hospital, providing inpatient, outpatient and specialized care services to patients from local communities, First Nations and from throughout B.C. – offering acute, emergency and critical care, as well as a diverse range of surgical specialty programs, to treat people when they are the sickest and need specialized care."
Dalton adds significant public engagement for the New St. Paul's has been undertaken in previous planning phases and will continue as the project moves forward into its next phases, including through the City of Vancouver's rezoning process in the coming months.