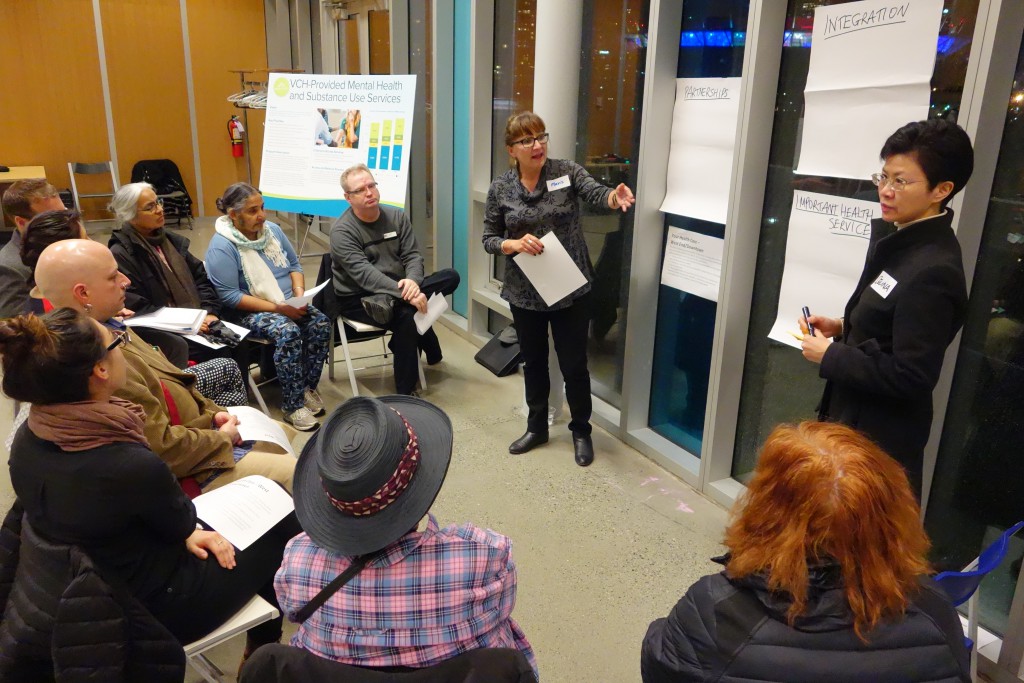 Sharing what we heard at the St. Paul's Community Forums in March
Posted On: Friday May 6, 2016
Providence Health Care (PHC) has completed its second wave of community forums about plans for the new St. Paul's Hospital and integrated health campus. Thank you to everyone who participated.
In Wave Two, two community forums were held on March 1 at St. Paul's Anglican Church in the West End and drew a total of 59 residents, patients, community advocates, health care workers and business owners. Another two forums took place on March 9 at Carnegie Community Centre in the Downtown Eastside and at Creekside Community Centre in False Creek. These were attended by 32 community members, patients, service providers, housing and community advocates, developers, First Nations stakeholder groups, as well as some West End residents.
Several PHC and Vancouver Coastal Health (VCH) staff and senior leaders facilitated the events and listened to the community's feedback. City of Vancouver Planning Department staff also came to take in the discussions on this important project.
At these events, participants were asked to consider PHC's vision for the new St. Paul's Hospital and health campus and VCH's planning for enhanced primary/community care in their communities. They then provided focused feedback on three distinct topics related to the health care needs of the West End and Downtown Eastside/False Creek communities — the two areas near the current and future St. Paul's sites.
The PHC and VCH clinical planning teams are now reviewing that input to help inform decision-making around health services planning for the new St. Paul's and the communities nearby.
Summary of your feedback
The feedback we heard in Wave Two forums has been captured in the following forum notes. Read what participants had to say:
St. Paul's community forums come to close
The end of Wave Two marks the conclusion of the series of eight community forums. Led by PHC in partnership with VCH, these events were part of a public consultation process in February and March to support PHC's clinical planning for the new St. Paul's.
The forums allowed the project team to share information about the vision of the project and the planning process, hear the important views and ideas of a wide range of community participants and stakeholder groups, and address their concerns and needs as best as possible as the planning progresses.
You can also read the consultation summaries from the first wave of community forums: