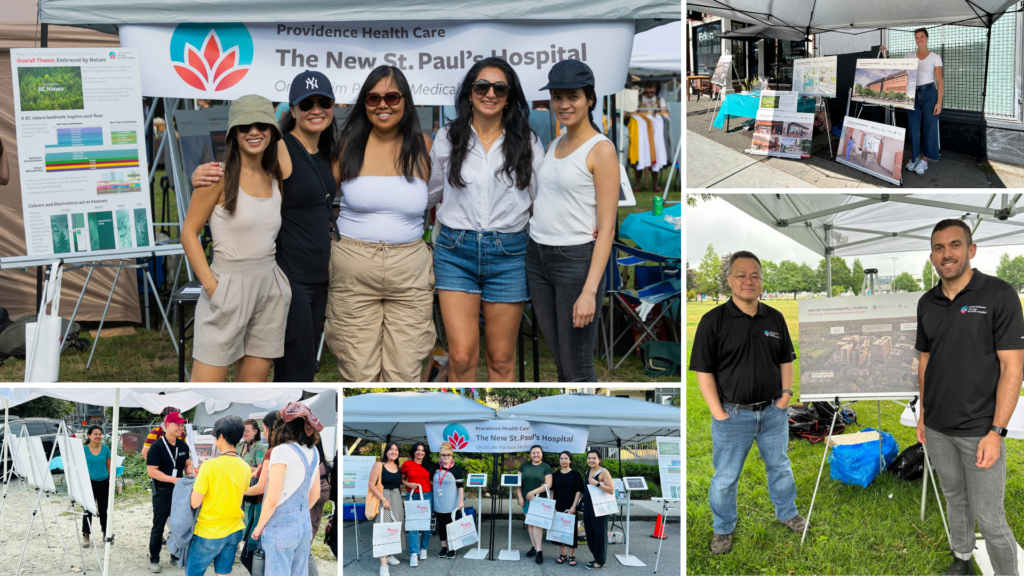 Summer of connection
Posted On: Monday September 25, 2023
Did you know when the new St. Paul's Hospital opens to patients in 2027, it will be almost double the square footage of the current hospital?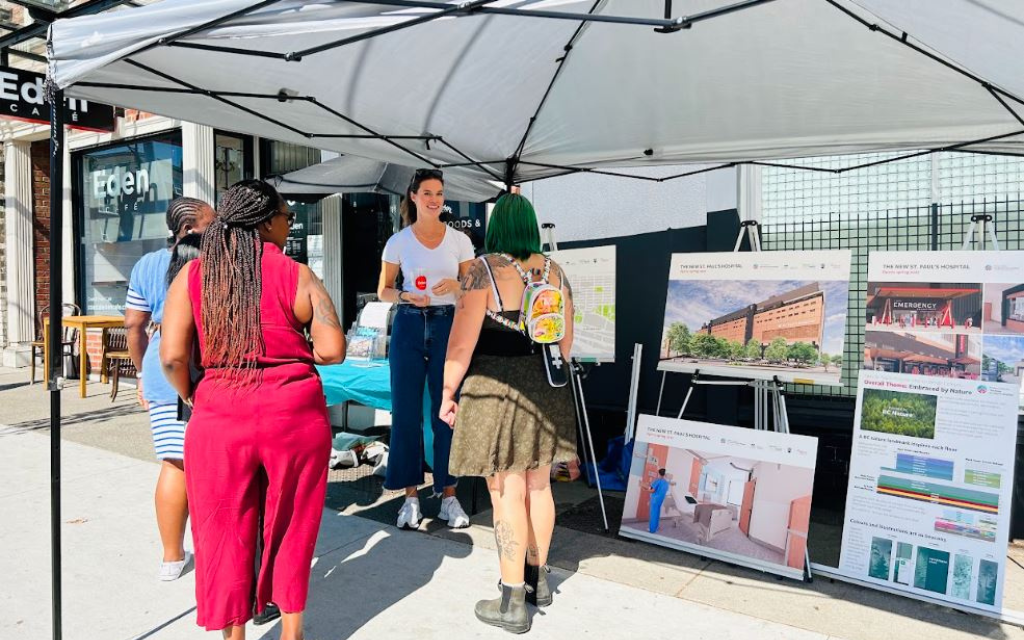 Claire MacEwing, Senior Project and Change Management Lead for the clinical team, hosts a pop-up event on the Downtown Eastside​
The New St. Paul's Hospital Project Team has been busy​ sharing these fun facts and more while chatting with locals this summer. From hosting info booths at Celebrate Strathcona, Union Street Block Party and the McSpadden County Fair in the Grandview-Woodland neighbourhood, to our own pop-up event on the Downtown Eastside, our team has met hundreds of locals – some of whom may step foot onto our campus one day.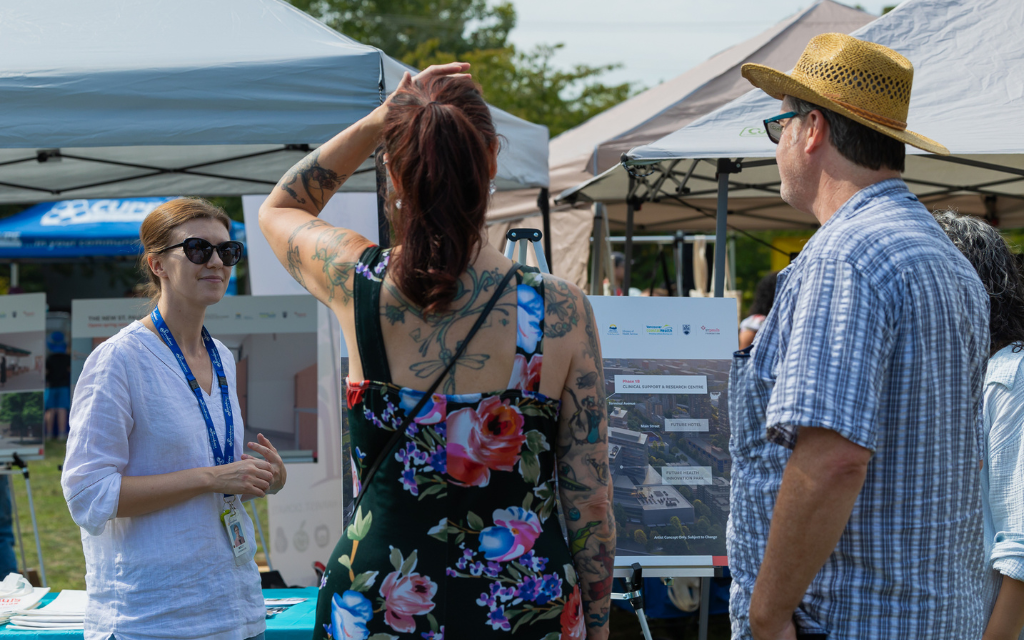 Molly Leathem answers questions at the McSpadden County Fair
"Meeting community members has been such a great reminder of why we're doing what we're doing. We're not only focused on designing the hospital to enhance patient privacy, dignity and comfort but also changing the way we deliver care so people can stay healthy in their own communities." 
– Molly Leathem, Project Lead, Engineering and Technical​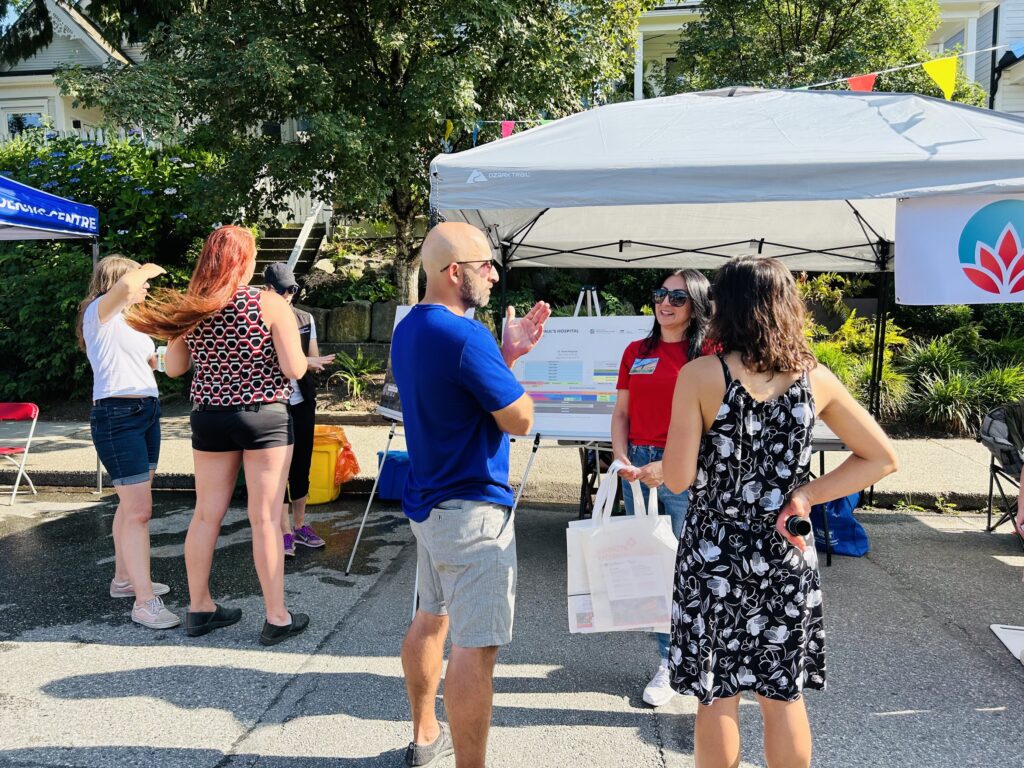 Jeannie Gandham (centre) speaks to locals at the Union Street Block Party
"I am so proud of the work we're doing with the new hospital, and it's exciting to meet the people we are serving. Making connections and seeing the faces of those who may one day receive care in or work at the new hospital reminds me of the immense privilege we have to be delivering this state of the art facility for the community." 
– Jeannie Gandham, Associate Director, IT Program
Building 'neighbourly' connections
We know when the hospital opens in the False Creek Flats, it will have an impact on local and surrounding neighbourhoods. It's only natural our future neighbours want to learn more about our campus and how it will change their community and the way they receive care. Meeting neighbours at community events gives our project team a chance to answer their questions – and more importantly, build connections.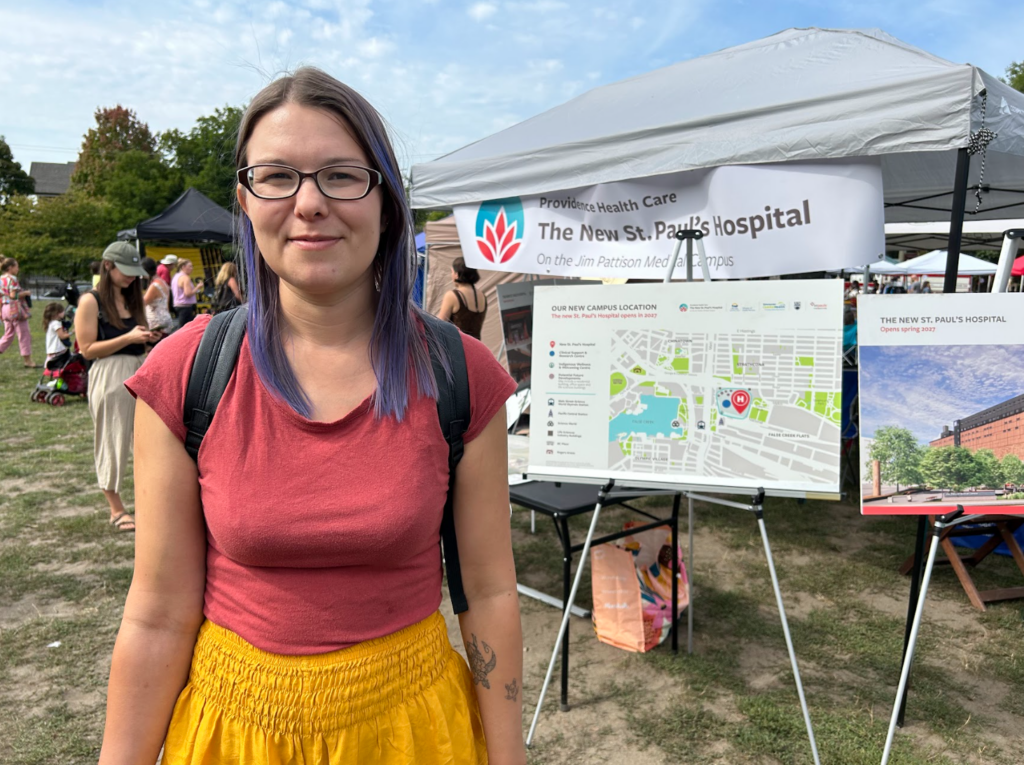 Vancouver residents like Angela Yaroshuk look forward to the day when we move in.
"I gave birth to my son at the current St. Paul's Hospital and it was a really great experience. The nurses were extremely kind and understanding so I'm excited about the new hospital giving staff more space to continue providing exceptional care."​​
Hospital pit stop for Science World staff
It's not just local residents who want to get to know us, our future neighbours at Science World do too. Given Science World is only a 10-minute walk from our future campus, our project team jumped at the opportunity to participate in their staff treasure hunt – any chance to show off our new hospital and build those connections!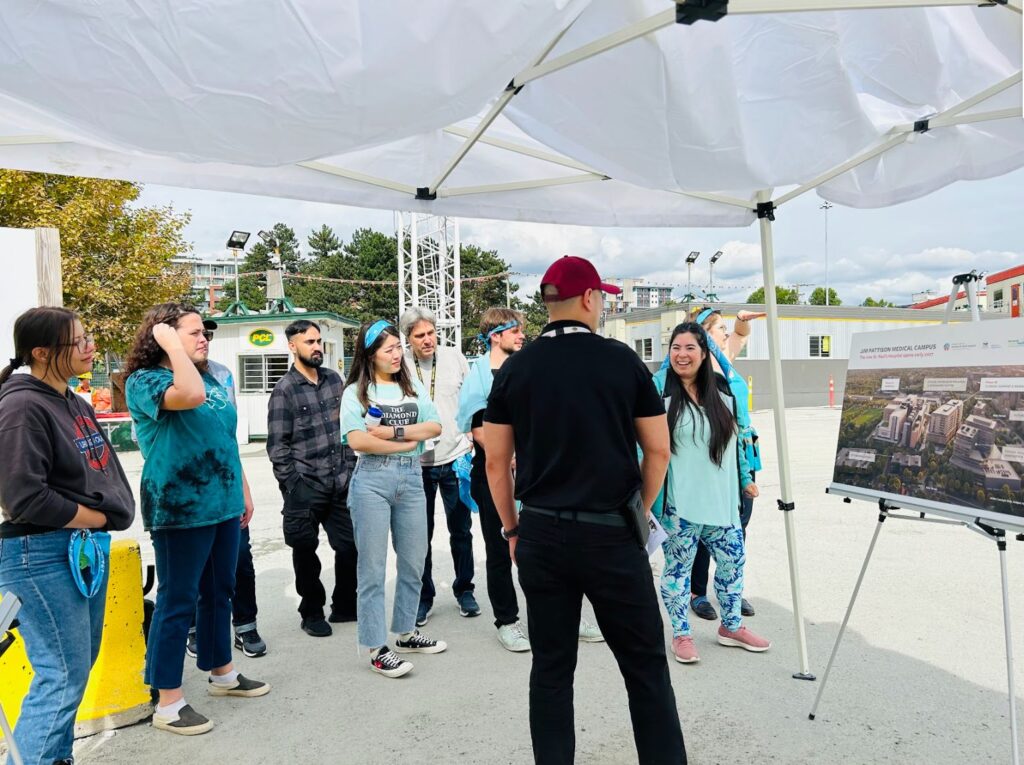 Clayton Wong (centre) speaks to a group of Science World staff about progress on the new hospital
​​​"What a pleasure it was meeting the staff from Science World! They all had thoughtful and engaging questions about the new hospital and it was an absolute privilege to share with them about the progress of construction.  This community event was especially meaningful as many of them had personal connections with the existing St. Paul's Hospital on Burrard Street."
– Clayton Wong, Project Manager, Technical​
Science World staff check out our new hospital from afar
We had a great time visiting with the St Paul's Hospital Staff! They were very knowledgeable and answered all our (very in-depth!) questions about the new location. Kudos to their team for a great session, and welcome to the neighborhood!

– Science World staff member
I left the visit feeling positive about the future! It was really nice to hear the 'why' behind the hospital design and how the dignity of patients are at the forefront of so many decisions. Vancouver will benefit greatly from this new hospital!

– Science World staff member
Read more about how our project team and ​PCL Construction engage with neighbours.