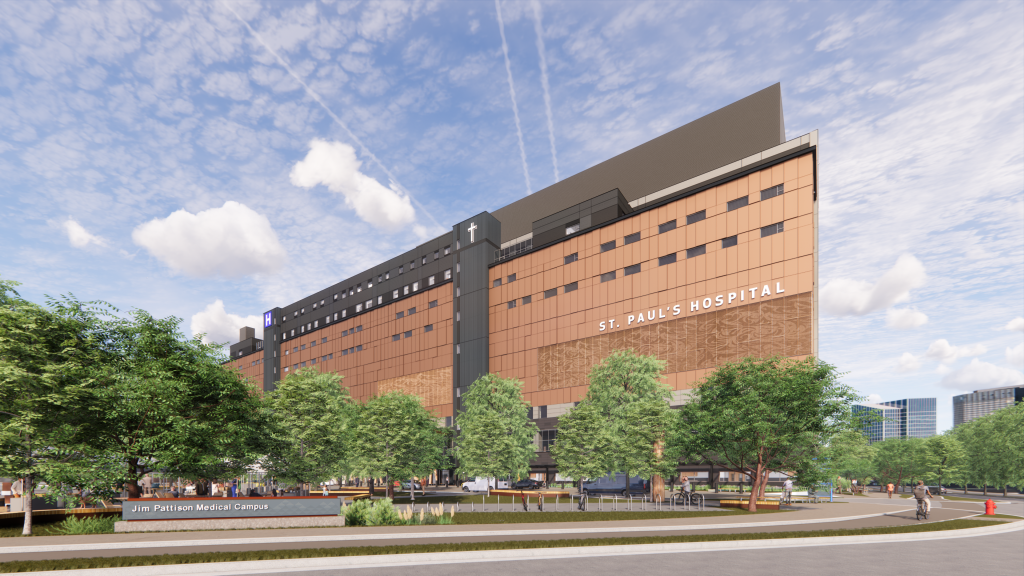 Newsletter: What to expect in 2023
Posted On: Tuesday January 31, 2023
2022 was a busy year for our future campus in False Creek Flats. 2023 will be another action-packed one. Here's what you can look forward to:
Construction
Rising from the ground
Concrete for the main floor is being poured.
The hospital started to rise above the ground and levels 1 through 7 will be poured in 2023.
We'll have to wait until 2024 before the hospital reaches its full height. The 11-storey hospital will be equivalent to a 21-storey high-rise condo!
To learn more about the construction timeline, click here.
---
Design
Crossing the t's and dotting the i's
Hospital building design is at the finish line.
All the big decisions have been made, and now teams are making sure all the final details have been addressed before the hospital is built.
Teams are now turning their focus to how they'll transform the way they deliver care in the new hospital, integrate care more across the patient journey, and strengthen our focus on what matters most to patients.
Catch the latest: In a warehouse not far from the new St. Paul's Hospital site in Vancouver, full-sized models of clinical spaces are being built and tested.
---
Technology
Putting new technology to the test
At the existing hospital, we're preparing to implement scaled-down versions of some of the cool technologies we'll have at the new hospital. This helps us gather feedback from frontline staff and troubleshoot issues early, before the full-scale launch at the new hospital.
Technology will be leveraged to improve patient experiences in and out of the hospital:

Providing outpatients with digital access to their healthcare journey so they can take their experience into their own hands and check referrals, manage appointments, and check-in at hospital clinics.
Integrating technology in patient rooms so they can stay in touch with friends and family, keep informed about their care and have more control over their room environment.
Designing and implementing 'behind-the-scenes-logistic-hub' akin to an air traffic control tower but for hospitals, used to enhance coordination of patient flows across the hospital with innovative, real-time data analytics.